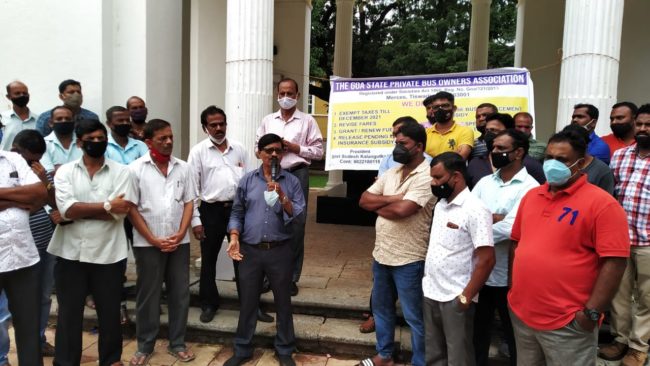 Goemkarponn Desk
PANAJI: The All Goa Private Bus Owners Association (AGPBOA) today staged a demonstration outside the transport department office to demand a fare hike and their other pending dues.
AGPBOA General Secretary Sudip Tamhankar claimed that dues of subsidy on minimum fuel and insurance subsidy had not been given by the transport department.
"The cost of diesel which was about Rs.64/- per litre as on March 2020 has gone to Rs. 96/- per litre as on date. The rise is about Rs. 32 per litre and a bus operating on a route of 200 km per day, with average of 5km/litre, has to incur additional Rs 1280/- per day (200/40 x 32)," the AGPBOA said
The AGPBOA further said that were expecting that a special package, to overcome the corona pandemic situation which was not in their fate inspite of the central Government announcing crores of rupees for as a help to the business entities.
"On last occasion our Transport Minister was kind enough to consider our request and a part of the pending subsidy was released by which about 400 odd number of operators could survive and manage their daily bread," they said
AGPBOAfurther said that they had demanded for Removal of objectionable clause in fuel subsidy scheme 2014, namely clause 5(7) but nothing was done.
"In fact the Transport Minister, as well as the Chief Minister had given an assurance to the operators that this clause would be removed and scheme would be made available to all operators.However nothing positive has come t so far.
Meanwhile, the association has demanded a Waiver of tax on passengers and Road tax for further period upto December 2021.
"This association had placed a earlier demand for waiver of Tax upto March 2021 due to lockdown on account of corona pandemic and restricted movement of stage carriage buses after partial unlock of the situation. The said position is still continues and only about 10 percent of route buses are on road which are also running 111 losses," it said
Comment