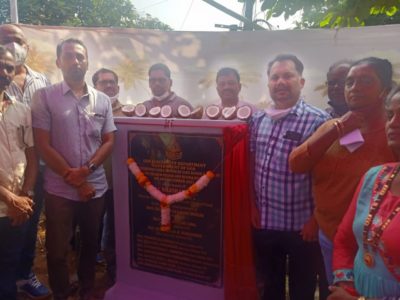 Goemkarponn desk
CURCHOREM: Streets lights from all over Goa to be taken over and maintained by the Electricity department. The movement to make such rules based on the policy is in progress, and within a few months, all street lights will be made functional.
Power Minister Nilesh Cabral said that all streets from Goa are not completely maintained by the Electricity department, but part of it was also looked up by the other government agencies.
"Solar and LED street lights are good, and the state govt also has got a dedicated solar energy policy. But we also have to understand that like normal street lamps, the solar, LED street lamps also need to be maintained timely, which unfortunately is not happening," he said.
Cabral says most of the erected LED street lamps are functioning, with some exceptional cases that are non-functioning.
He also said that the henceforth non-functional streetlamps will be taken over by the GED and maintained.
Already policy has been made in this regard. Rules that have been framed will be established once they are approved.
Meanwhile, after the inauguration of the work, Cabral said that with the support of former Chief Minister Late Manohar Parrikar and the present Chief Minister Dr. Sawant, several electricity related works worth Rs.250 crores Curchorem constituency, especially regarding underground cabling, has been done. Some of the works are in progress, and the rest of the works will be started shortly. The main work of underground 11 KV cabling has been focused on. Our main objective is to give uninterrupted electricity to the people.
When questioned about the cost estimated for the underground cabling works, the minister said that multiple constructors are undertaking underground cabling works in various Curchorem and nearby areas. The total cost of these works comes around rs.250 crores.
Comment