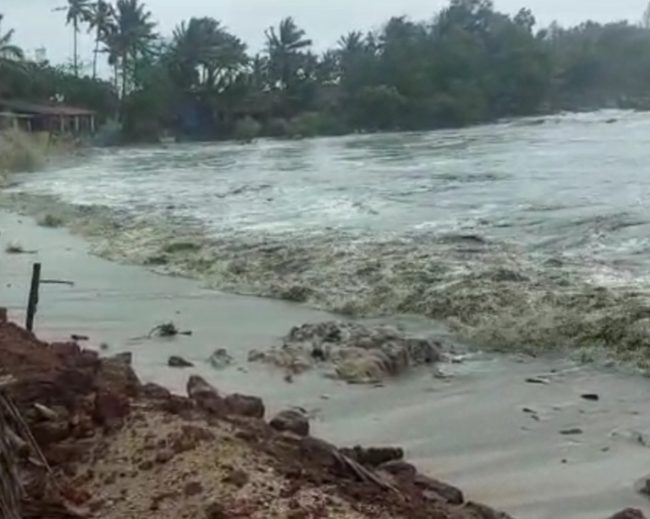 Goemkarponn desk
CANACONA: For the second day in succession Covid-19 pandemic went off the minds of locals as the heavy cyclonic winds passing through Canacona caused havoc both near the coast and in the hinterland of the taluka.
As if the horror of many locals testing positive for Covid-19 disease was not enough the Tauktae cyclone added more misery to the people of Canacona as there are reports from all over the taluka of damages to structures, electricity poles, fishing boats and destruction agricultural plantations.
And to top it all the entire taluka is having a blackout since Saturday night as many electricity distribution poles fell down in different parts of the taluka.
And since there is no power supply the taps went dry since Sunday morning sources informed.
Sources informed thay major devastation has happened on the coastline of Galgibagha, Talpona, Rajbagh, Patnem, Palolem, Agonda and Khola as the huge waves have eroded huge chunks of sand from this beaches, many structures close to the shore and fishing boats have also been damaged locals informed.
While the turtle nesting site set up by the wild life department at Agonda got submerged in the surging water, the turtle nesting site at Galjibagh was dangerously close to being submerged in the water.
The critical sand bar between Galgibagha river and Arabian sea saw more of its sand getting eroded as water continued to flow directly
into the river for the second day in succession which has caused the water to rise by more than half a meter in Galgibagha river locals informed.
At about 2.00pm when the water was at its highest due to high tide more area of the sand bar got submerged in the sea water and sea water entered into the river with huge currents.
Manoj Prabhugaonkar a resident of this area informed that this will have both short term and long term effects on the mangroves on the banks of the Galgibagha river.
The entire river upto a distant of atleast 2km will be affected he said.
Seby Barretto a local from Galgibagha informed that in last 3 years he has been raising the issue at different forums including the gram panchayat but the authorities as well as the local panch just don't understand how serious this issue to the life in the river as well as to those living close to the river is, as most of the village is a low lying area Barretto said.
Meanwhile the heavy cyclonic winds that swept through the taluka caused many trees to get uprooted, there were reports of roofing sheets being blown off due to the winds.
There were also reports of water logging in Palolem and Agonda sources informed.
Comment