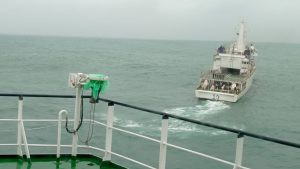 Goemkarponn desk
VASCO: In a remarkable display of swift and efficient response, the Indian Coast Guard successfully saved 36 lives and averted a potential environmental disaster today when they rescued a research ship of NIO under distress and drifting perilously close to Karwar, with eight esteemed scientists and total crew 36 on board. The Research Vessel Sindhu Sadhana had an engine and total power failure and was drifting at a speed of 03 knots towards land.
It was approximately 20 nautical miles from the land when the distress message was received at the Coast Guard District Headquarters Goa around 1300 hrs on 26 Jul 23.
The situation was critical, as the NIO, a state-of-the-art research vessel, was carrying valuable scientific equipment and research data. Moreover, the proximity of the ship to the ecologically sensitive Karwar coastline posed an imminent threat of grounding, which could have resulted in a major oil spill and devastating pollution to the pristine marine environment.
Upon receiving the distress call, the Indian Coast Guard immediately swung into action and activated a high-priority rescue operation, despatching two advanced Ships, ICGS Sujeet and ICGS Varaha with skilled team to the area. Recognizing the potential magnitude of the disaster, the Indian Coast Guard got activated to safeguard the Ship so as to protect the fragile ecosystem, and save the vessel from running aground.
The weather in the area is extreme, with sea state of 5-6 and winds gusting upto 45 kts. Towing a ship in these conditions is very difficult and the operation is currently ongoing. Despite all the challenges, ICGS Sujeet has taken the distressed NIO vessel under tow and are currently headed towards Goa. The crew onboard the NIO ship is safe and sound.
The Indian Coast Guard remains committed to ensuring the safety of maritime seafarers in the region and safeguarding the pristine marine ecosystems. The rapid response and strategic coordination of Indian Coast Guard has once again proven its unwavering commitment to protecting both human life and the environment.
Comment