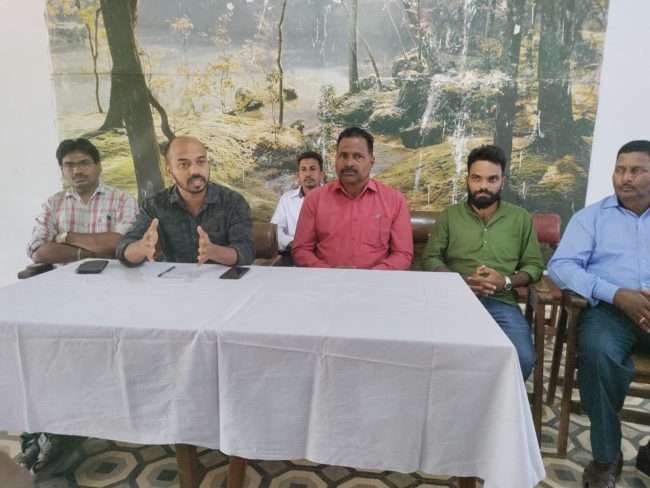 Goemkarponn desk
CANACONA: Caste-based politics has been already initiated by All India OBC Mahasabha (AIOBCM) to support one of the many OBC candidates in the forthcoming Canacona Assembly.
This has created a rift within the Mahasabha itself, with the Canacona AIOBCM branch distancing itself from the political interference of State level AIOBCM.
Addressing a press conference, AIOBCM Canacona branch president Mangesh Pagi declared, "we, the Canacona branch is, totally against the decision announced by AIOBCM State President Shashikant Ghadi that AIOBCM has decided to support Canacona Congress candidate Janardhan Bhandari for the forthcoming Assembly Elections."
He said that, As previously decided that the Mahasabha will not give vent to any 'Rajniti-karya', but stick to only 'Samaj-karya', the AIOBCM State leadership has never consulted us to deviate from this amicably accepted terminology as far as Elections are concerned.
"How, as claimed by Ghadi the winnability of Janardhan Bhandari is arrived at against the other OBC candidates without even consulting the local AIOBCM unit is beyond our imagination. We are totally against this highhandedness of AIOBCM State leadership and hereby announce that each of our more than 17,000 OBC electorates is free to take their own decision, support and vote as per their own choice and do not fall prey to the dictates of what is told by AIOBCM State President Shashikant Ghadi," he said.
AIOBCM State Youth President and Canacona Youth President Sunay Komarpant questioned how State leadership can take a biased stand in elections when it was clearly agreed in the past not to politicize the Mahasabha?
"Even our AIOBCM Canacona Ex-President Adv Anoop Kudtarkar has resigned from the post the moment he learnt he is going to contest elections. Time and again, it has been decided not to do or promote raj-Karan, but only Samaj-karye will be of prime objective. Without even giving a hint or consulting the local unit, State leadership declaring support to a particular candidate is unacceptable to us," he said.
Adv Kudtarkar, who himself is contesting this election as an AAP candidate, explained why he had resigned and never approached any community members to support him being from the community, but 'has gracefully kept Mahasabha inference away on my political clout'.
Comment