Demand for KTC shuttle service on Maxem-Poinguinim-Bhatpal route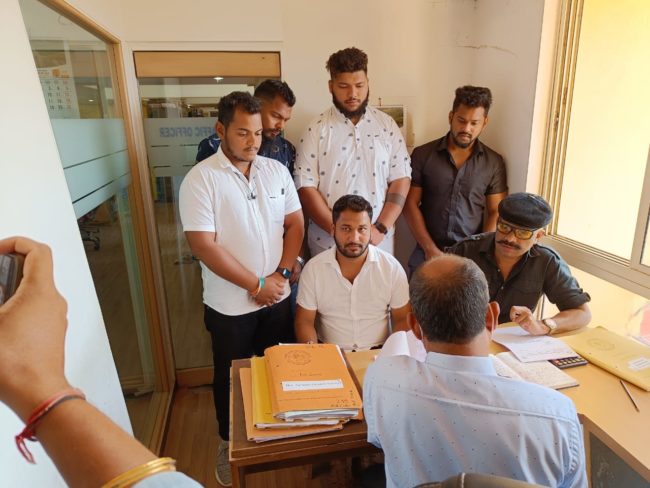 Goemkarponn desk
CANACONA: Stating that people, especially senior citizens and students, are highly inconvenienced due to the suspension of heavy traffic, including route buses on the Maxem-Poinguinim-Bhatpal route of NH-66, Canacona Congress candidate Janardhan Bhandari has demanded plying of KTC mini-buses fleet as shuttle service on the route to overcome the lack of public transportations.
On Monday, Bhandari and a few other Congressmen from Canacona submitted a copy of the memorandum (addressed to the Chief Secretary) to the Managing Director of Kadamba Transport Corporation in Panaji.
According to Bhandari, the repairs of the Ordhfond bridge going on for the last two weeks has not only led to the suspension of heavy traffic but also the public transportation has virtually come to a standstill forcing young and old from Poinguinim, Partagas, Ordhafond, Bhatpal, Shrishthal especially the heading to Chaudi and vice-versa are highly inconvenienced.
He said that in the absence of public transportation for stopped past two weeks, these residents are forced to walk kilometres together to visit the hospital, doctors, markets and back to their residences.
"Due to present repairing works of Ordhfond bridge, half of the bridge is closed for vehicular traffic, restricting plying of big buses on Polem-Canacona route of NH-66 road passing through Poinguinim. This work may go on for another 3 month's, and it was very much unacceptable to inconvenience people of these localities for that long," he said.
Bhandari said they have requested the government coordinate with KTCL and issue directions to start shuttle service with mini-buses from Canacona to Polem.
"Daily shuttle service may not solve the problem, but that will at least ease the problem faced by people to some extent. We have demanded immediate commencement of shuttle service but have three days time for the authorities to act. If no action comes from the government in three days we may adapt to unfortunate measures, to force authorities to act", Bhandari later told Goemkarponn.
Bhandari also informed people residing in Sheller, Khalwadem, Shrishthal, Bhatpal, Ordhfond, Partagal Poinguinim, Caroi, Maxem, are put to great hardships due to the repairs works undertaken in Ordhfond bridge.'
"We have just asked for an alternative to ease people's problems, as repairs works also need of the hour, but it's government duty to ease people's problems", Bhandari said.
Comment