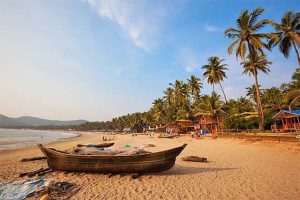 Panaji: Around 27 per cent of Goa's 105-kilometre-long coastline is under the threat of erosion which has left the state government with a daunting task to save beautiful beaches and protect its tourism economy.
The eroding coastline due to increase in sea level and human intervention may impact the state's tourism economy in the years to come as the beautiful beaches of the coastal state are facing threat of erosion. Hence, the environmentalists have urged the state government to take action to prevent it.
Even MLAs representing the constituencies from the coastal line are raising their voice and asking concerned departments to act on it swiftly.
According to state Environment and Climate Change Minister Nilesh Cabral, the government through the Water Resources Department has constantly initiated various steps to curb the erosion by means of structural as well as non-structural measures.
"Structural measures include anti-sea erosion protection works such as tetrapot's, concrete blocks, gabbian walls, among others, devised in consultation with CWPRS Pune. Non-structural measures consist of initiation study for identification of the cause leading to such beach erosion and arriving at a long term remedy for which National Institute of Ocean Technology (NIOT) Chennai has been entrusted the work under a world bank funded project. The report is expected by the end of this year," Cabral said.
He said that the National Centre for Sustainable Coastal Management (NCSCM) in the Beach Carrying Capacity Report has observed that the overall for a coastal stretch of about 105km, 35 per cent of the coast is rocky terrain, 20 per cent of the coast is stable, 27 per cent is under erosion and 17 per cent of the coasts experiences accretion.
"River mouths and port areas experience significant erosion characteristics. Pocket beaches of Goa are either stable or are accreting," report further said.
Cabal said that the State Government has also initiated the process for implementing soft measures for control of erosion.
Water Resources Minister Subhash Shirodkar said there is large-scale damage by way of collapse of river banks due to unscientific and un-controlled sand mining resulting in deepening of riverbeds and affecting the littoral drift of the riverbed materials. "This is more prominent in the Khandepar, Chapora, Tiracol river. It has also triggered erosion of the coast along Arabian Sea such as Keri, Morjim, Coco beach," Shirodkar said.
He said that the department has engaged the services of National Institute of Ocean Technology, Chennai to study the problem and suggest remedial measures.
"Whenever severe erosion occurred, the department takes up anti-erosion protection measures. The department has prepared certain guidelines for regulating the sand mining in the State and handed it over to the Directorate of Mines and Geology for implementation," Shirodkar said.
Revenue Minister Atanasio Monserrate has said that in regards to Beach erosion, the government has taken cognizance of the same and the severely eroded beaches are referred by the Water Resources Department to Central Water and Power Research Station (CWPRS) Pune, for Scientific Study and recommending suitable Mitigation Measures.
Talking to IANS, Leader of Opposition in the state assembly Yuri Alemao said that it is important that measures be taken to protect the coastal area from sea erosion.
"Government should study the Report of ISRO revealing that Goa lost around 15.2 hectares of land due to coastal erosion in 10 years," Alemao said.
Even Tourism Minister Rohan Khaunte had said that sea erosion had become a major challenge.
"There is the challenge of sea erosion. It is a threat (to the tourism industry) the way it is taking place. Beaches are getting washed out. Though we give permission to erect shacks, however they are not able to occupy a longer distance (in permissible limit), as beaches have washed out," Khaunte said.
He said that it was very important to think about how we stop this sea erosion. "We can adopt technologies to ensure that we get our surface back. Techno-commercial concepts can be adopted with the help of the environment and other departments," he said.
National Fish workers Forum (NFF) General Secretary and environmentalist Olencio Simoes said that sand dunes should be protected or the coastline will get vanished
He said that the Sagarmala project will "destroy" the environment and rivers of Goa.
"Goa has a beautiful coastline only because of sand dunes. No other state has such sand dunes. Our livelihood and tourism is dependent on the coastal line. But the government is trying to destroy everything," Simoes said.
Comment