Health officials inspect migrant houses at Deepnagar- Curti for releasing waste in open
Locals want PWD action against people releasing human, domestic waste disposal in the open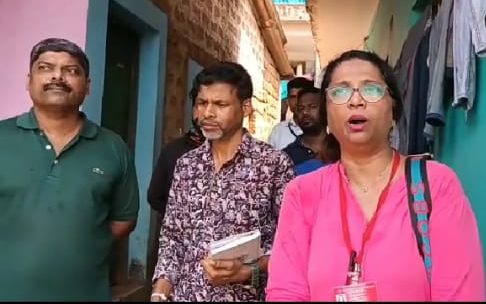 Goemkarponn desk
PONDA: Finally, the Health Department inspected Curti -Deepanagar houses of around 52 migrants, who allegedly released domestic human waste in the open. Health Officer Dr Smitha Parsekar and local Sandeep Parkar inspect the homes at Deepa Nagar Curti.
The inspection was done following a complaint by local Sandeep Parkar for releasing human and domestic waste in the open.
Sandeep said in the public interest that he filed the complaint. He said the waste disposed of on the open roadside posed a disease risk, including dengue.
He said this is the second time he filed a complaint against such incidents, and earlier in the past also, the inspection was done; however, few house owners had installed soak pits.
He said PWD should take proper action against violators. After today`s inspection, Sandeep said that around seven house owners who got notice of water connection pleaded for seven days to construct a soak pit.
He said there were dengue cases in this area in the past, and after a complaint by him, it was under control; however, recently, he once again noticed waste in the open and demanded inspection from Health.
Health Department doctor Dr Smitha Parsekar said they inspected the houses following a complaint.
She said it's also the role of PWD, Panchayat and panch members to create awareness so that locals do not release waste on open.
She said the health department asked house owners to maintain proper cleanliness and soak pits to keep away dengue and another disease for better Health.
Comment