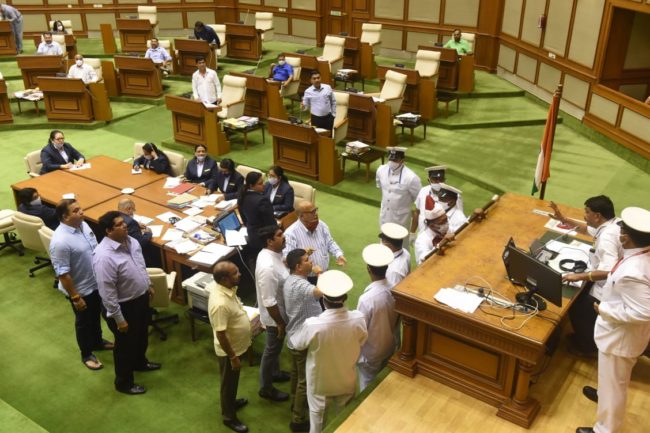 Goemkarponn Desk
PANAJI: The House had to be adjourned twice during Question Hour after opposition created uproar over Sanjivani Sugar factory issue.
The House was adjourned after Speaker declined to grant any further discussion on the Question, which was already debated for nearly half an hour. This led to opposition MLAs led by LOP Digambar Kamat rushing to well of the House demanding one hour discussion.
The opposition accused govt of trying to play with the sugar cane farmers.The speaker pointed out that the issue can be discussed in detail by MLAs during Demand for Grants on Agriculture, next week.
MLA Sudin Dhavalikar also threatened to sit on hunger strike in the Assembly Session if not allowed to speak. Opposition submitted letter to Speaker requesting on hour discussion on Sanjivani Sugar factory issue. Speaker agreed to grant time to discuss.
Dhavalikar has warned the government not to play with the future of farmers. Dhavalikar suggested that the government should instead "repair and run the factory".
"Instead of closing down the factory because of a Rs loss, state government could focus on increasing sugarcane production inorder to make profits," he said.
"Whoever plays with the future of farmers will lose their powers, as farmers will not forgive them," he added
Comment