IMA demands 50 p.c subsidy in handling of bio-medical waste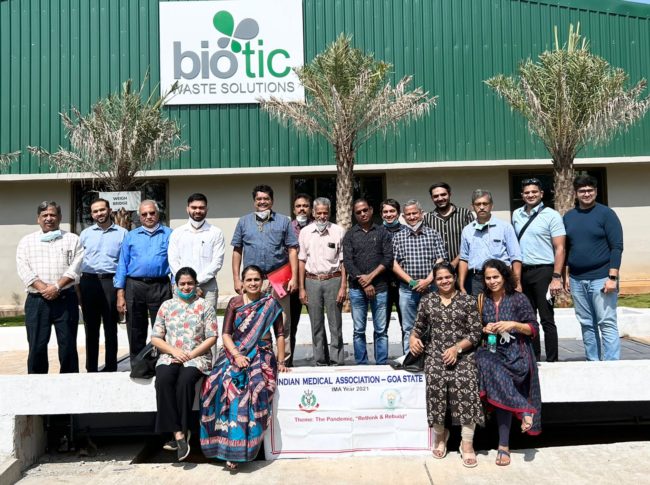 Goemkarponn desk
KUNDAIM: After the chaos last week during BJP National Convenor JP Nadda's visit, the Indian Medical Association on Sunday demanded 50 p.c subsidy for the handling of bio-medical waste.
On Sunday, a meeting was held on 28/11/2021 by IMA State office bearers and Officials from GSPCB and Biotic waste solutions at Kundai with a single common agenda of BMW disposal and the pricing for the services for end-users.
IMA Goa State President Dr. Vinayak Buvaji spoke on how to free the land of Goa from hazardous BMW generated by each and every health stakeholders.
Dr. Shekhar Salkar, Coordinator BMW IMA Goa State, briefed about the past, ongoing discussions, meetings with Toxic Link, GWMS, GSPCB and concerned Govt. departments and conclusions over last 10 years to sort out the issues of BMW.
The other IMA doctors who attended the meeting raised a concern about the health stakeholders who generated Zero BMW and communicated to GSPCB and the Govt. authorities to cancel their names from the BMW generators list.
Members also raised a query with regards to the charges & deliberated with the Directors with regards to the pricing by the Biotic Waste Solutions.
Directors Manish Greval and Rahul Rana at the outset briefed about the existing scenario in Goa with regards to the disposal of BMW and the latest technology involved in the plant.
While summarizing the deliberations, It was decided:
1. To communicate with the concerned Govt. office to appeal with a request of fifty per cent subsidy from the Govt. machinery to lessen the burden of heavy charges
2. Considering the 10 per cent hike every year to every three years of the stipulated charges.
3. A committee may be formed under Chief Secretary/ Secretary by the Government with all the State level medical associations for detailed deliberations within the legal framework, and proper solutions may be arrived at and a final meeting with the Chief Minister.
All medical professionals are requested to sign stipulated MOU with BIOTIC waste solutions so that the BMW collections may be started by the firm since the accumulated waste will be a threat to society with respect to the health issues. If the Government agrees upon considering 50% subsidy, it would start from the date of signing the MOU.
4. IMA State office requests all the medical professionals to get their Authorization done with GSPCB to avoid any penalty.
The meeting ended with a vote of thanks by the IMA Goa State President addressing the growing concerns over the safety of the public at large in relation to BMW and the need for protective gear for the state and a visual tour of the plant to know the functioning.
Comment