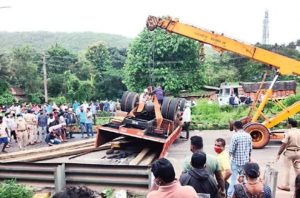 Locals demand proper engineering and road safety   Nine black spots were identified at Ponda Roads Negotiating through Ponda Sharp turns, Junctions, Circles, be careful!
Goemkarponn desk
PONDA: Junctions, circles, and sharp turns have become death traps in Ponda, and following several fatal accidents, locals demand proper road engineering and safety.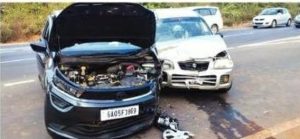 Locals say fines are not a solution, and the government focus on improvisation and better engineering of roads.
Sources in Traffic Police said they had identified nine black spots for accidents, including four accident-prone zones on Ponda and Dharbandora roads.
This includes road stretch at Bhoma, Kundaim, Mangueshi, GVM Circle, Borim Circle, OPA Junction, Usgao stretch, Mollem road etc.
Pondaitees have invited government attention after a horrific fatal Kundaim, Manaswada Junction accident.
Statistics show 25 deaths were reported last year, and already this year, in January and February, five deaths were reported at Ponda and Dharbandora.
There are at least nine black spots at Ponda identified by Police. But Despite horrific accidents, dangerous Junctions and sharp turns inviting casualties remained.
Sources say Ponda leads in accidents in State as many horrific accidents occurred on junctions, Sharp turns and dangerous Circles in Ponda Taluka.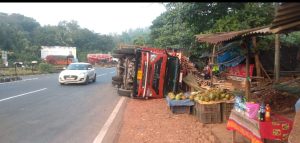 The dangerous accident-prone spots are Kundaim Mansawada Junction on Slope, where at least three fatal accidents occurred in recent years and the latest when a Truck rammed into a shop last week when five were injured and one lost life after buried under the debris of a shop destroyed in the accident.
Earlier in the past, locals have come on the road several times to demand road be kept as a service road and that NH traffic proceeding from Ponda to Panjim be diverted through Kundaim Bypass for the safety of locals.
However, so far, no steps have been taken, and locals have even been given fifteen days' deadlines for the government to divert two-way traffic on the bypass to prevent horrific accidents at Village junction. Sarpanch of Kundaim Sarvesh Gaude, local Vijesh Naik, urged to divert traffic twice. Bypass.

Another horrific Junction is at Mangueshim, where so many fatal accidents occurred; however, except for rumbler strips no improvement. Recently two cars were badly damaged after face to face collision, and five were injured.
The third deadly junction is at GVM Circle where Margao Panjim and Panjim Ponda Belgaum roads intersect. This is a dangerous circle; locals have demanded to reduce size for many years due to horrific fatal accidents with so many people losing lives.
Locals say the position of the Circle needs to be corrected and located on the slope, and the size needs to be bigger.
The Bandora local and former Sarpanch Rajesh Naik demanded that Government and NH Authorities improve and reduce the size of accident-prone GVM Circle at Farmagudi Ponda due to frequent fatal accidents.
Like the Borim Circle, this Circles has become a headache for commuters.
Rajesh Naik said the GVM circle has become an accident-prone zone, so the Circle size should be reduced to prevent accidents.
He said there is a need to study why the accident occurred at the same spot.
For many years, we have seen several accidents, including fatal at the spot.
The circles at Bythokhol and Borim bridge pose a great risk, and several fatal accidents occurred. Nobody will forget the horrific accident at Borim Circle, located near the bridge when three electricity linemen were killed after a Truck carrying them along with electricity poles while negotiating Circle overturned poles and linemen were crushed to death.
Similar is the case with Bythokhol Circle, where fatal accidents occur while negotiating the Circle. Recently a truck a loaded truck fell on its side at Circle. Luckily six vendors escaped.
The Dhavlim Farmagudi, a four-lane Highway with Sharp turns, is also considered a death trap, and locals demand safety measures as so many vehicles fells on their sides while travelling on this stretch. One horrific memory is when Crane fell from a flyover, and the driver died on the spot.
Comment