Locals question will the Government install speed controlling measures before any more fatalities?
Citizens suggest rumbler strips at the junction to control the speed of vehicles on the Highway.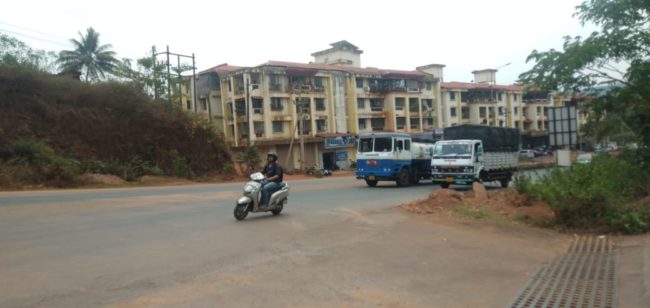 Goemkarponn desk
PONDA: As we know, the practice of the Government only wakes up after there is a major accident or lives are lost.
The Government installed a rumbler strip at Mangueshim Junction a few years back only after it claimed one student's life pursuing medical education. Similarly, one such dangerous junction lies on a slope on the same Highway at Kavlem –Khadpaband Junction, where locals want government attention to install rumbler strips and speed controlling safety measures to save lives before fatalities occur.
Secondly, this Kavlem -Khadpaband junction is not even visible to speeding vehicles on the Highway, which is also a significant threat to life.
Kavlem –Khadpaband junctions on Dhavlim-Farmagudi slope are considered a death trap due to zoom speeding vehicles with even vehicles that are dangerously racing at sharp turns without slowing speed.
The Kavlem-Khadpaband Junction is located on a steep slope, and vehicles on the Highway are speeding at high speed without being aware of the junction.
Locals say there is a need for safety measures such as rumbler strips to slow down the speed of vehicles at this junction.
An orange light signal blinks, but vehicles are never seen slowing their speed.
Already one life claimed
Some years ago, due to confusion, one tempo had crushed a car driver at this junction who was crossing the junction to proceed towards Kavlem.
Besides this, several accidents occur. Recently, one journalist crossing the junction was hit by a speeding Innova car but luckily escaped with minor injuries.
Since the junction is used by hundreds of locals, they are asking whether the traffic department is waiting for fatalities to adopt safety measures.
This junction is used primarily by Kavlem and other panchayats locals to proceed to Ponda for shopping, school and official work.
However, here the NH traffic is speeding. Orange light blinks, instructing to slow down the speed, but no vehicles slow down their speed.
The Kavlem-Khadpaband junction is also used by Kavlem locals to proceed towards Ponda as a short-cut route to Schools at Ponda and Market.
Kavlem and surrounding Bandora, Talavalim, Durbhat and Agapur Villagers also use this junction as a short-cut route to Ponda.
This junction has been under argument, with Kavlem Locals and Marcaim MLA claiming that the junction should be kept open as the Kavlem-Khadpaband road was long back acquired by PWD, while Ponda Municipal Council (PMC) claims there is no such road acquired at Khadpaband by PWD in PMC Jurisdiction.
When the road towards Khadpaband Ponda side was closed by PMC, Local Marcaim MLA Sudin Dhavlikar and locals protested to keep open the road for Kavlem Locals claiming that the PWD had acquired the land for Kavlem –Khadpaband road long back and that it encroached by PMC.
The MLA Dhavlikar and Kavle locals want the junction to be used to proceed towards Ponda.
However, at the same time, no safety measures were adopted for vehicles intending to cross junction to slow down the speed of vehicles from all sides.
The Ponda Municipal Council (PMC) had closed the junction road towards the Ponda side, claiming there is no PWD land acquired road towards junctions and its dead end.
It had also closed the road claiming it was an accident spot. However, later some unknown persons opened the road to cross the junction.
Comment