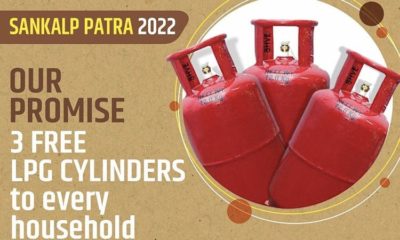 Goemkarponn desk
PONDA: On March 10, the divided opposition helped BJP to win 20 seats, and as soon the BJP government formed, there were discussions among the public about the BJP poll manifesto.
People's attention is now on inflation and wants the BJP government to deliver its Poll promises, including three free gas cylinders per year.
Besides fulfilling poll promises, including three free cylinders in a year, people expect good roads reduction in prices of essential commodities from the forthcoming new government.
When asked what they want, the public's reaction is they are waiting for BJP to fulfil promises made in the election manifesto.
"Three free gas cylinders in a year for every Goa household, besides quality housing providing home loans for deserving families at an interest rate of two per cent for women and four per cent for men and developing and providing residential plots," locals said.
Besides, the manifesto had also promised resumption of mining in six months, making the state a premier destination for co-working spaces and remote working post-pandemic and enabling it to become a USD 50 billion economy in a decade.
Nayan Naik at Bandora said that three free cylinder BJP government fulfils all its poll promises and should not remain on paper.
Nayan says that the roads in her area and many parts are not hot mixed in the past few years.
"The road condition is poor, and all the roads should be repaired or hot mixed so that commuters get relief," she said.
She also said prices of commodities should be reduced.
Umesh Naik said the aam admi is suffering due to skyrocketing prices of commodities at Kitchen and that of fuel, edible oil.
He said the new government should make some effort to bring down prices and relief to housewives and the common man. The rates of water bills and power should be reduced.
Sandeep Parkar at Khandepar, who is also an environmentalist, said there is a need for the protection of the environment and effort to reduce global warming by controlling pollution.
The development project that will hit the environment should not be encouraged.
He also said people need better and more efficient administration.
"When one files an application or complaint at government offices, it takes a lot of time to take action which needs to be expedited," he stated.
Dinesh Naik at Ponda said the unemployment issue needs to be solved urgently.
Besides government jobs, the jobs at Industries are grabbed by migrants, and that local should get 80 per cent jobs as per government policy.
In mining, dependent people have a lot of hopes from the new government to find a solution to their problem who are suffering for livelihood after the closure of mining.
The mining belt people have been waiting for the restart of mining for the past ten years.
Comment