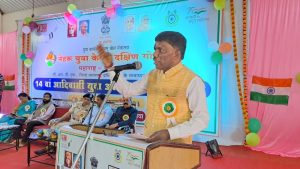 Goemkarponn desk
CANACONA: Stating Gawda, Kunbi and Velip is the sons-of-the-soil (Bhumiputras) who have protected the culture and traditions of the State, Speaker Ramesh Tawadkar said because of his sustained struggle for 10 years, the ST community got the due recognition in the year 2003 in Goa.
Tawadkar was speaking at the inaugural function of the 7 days (29th Jan-4th Feb) 14th Tribal Youth Exchange Programme, organised by Nehru Yuva Kendra in association with the Ministry of Home Affairs, Ministry of Youth and Sports, CRPF, at the Auditorium at Adarshgram, Amone, Poinguinim in Canacona on Monday.
Speaking further, Tawadkar informed he led the struggle for 10 long years, and he had to even undergo Jail, and the Congress government in Goa also collapsed due to the agitation for tribal struggle.
While informing there are 220 participants from 8 states, including 12 districts in the country, he stated that he also got the honour of being the first minister of Tribal Welfare in Goa and through that department, he had launched 25 different schemes for the Tribals in Goa, when there were no schemes for Tribals in the country.
Speaking on occasion, State Director of NYKS Goa & Maharashtra Prakash Manure said that the aim of this seven-day camp is to make the young women of different parts of the country aware of the culture of different states of the country, to bring tribal into the flow of development, to create a dialogue between tribal and other youths, to create brotherhood, to create awareness about patriotism and nationalism is the overall purpose of this program.
The participants for this Tribal youth Exchange Programme have come from districts/states like Odisha, Kangmal, Andhra Pradesh, Visakhapatnam, Telangana, Bhadradi, Kothegudam, Jharkhand, Sinhbhuh, Khuti, Loh, Bihar, Lakhi Surai, Chhattisgarh, Kanker, Narayanam and Sukma. '27 such camps are running in 27 states, and the participants will also visit the Goa Assembly Complex. Our folk art, folk culture will be displayed to them,' informed Nehru Yuwa Kendra Deputy Director Kalidas Ghatwal.
Gunaji Mandrekar, a recipient of various awards, was felicitated by Speaker. Portraits of Mahatma Gandhi and Swami Vivekananda were garlanded. In a representative form, the participants from Odisha and Jharkhand performed folk art dances of their districts and received appreciation from the audience. A vote of Thanks was proposed by Kalidas Ghatval.
Canacona Dy. Collector Ramesh Gaonkar, CRPF Commander Indrayani Chavan, Poinguinim Panchayat Sarpanch Savita Tawadkar and Nehru Yuva Kendra Deputy Director Kalidas Ghatval were present. Soon after the inauguration, Contest on Tribal Declamation was held amongst the tribal youths, followed by Tribal Cultural Festival.
Comment