Street-fight between shop-owners, street vendors in Curchorem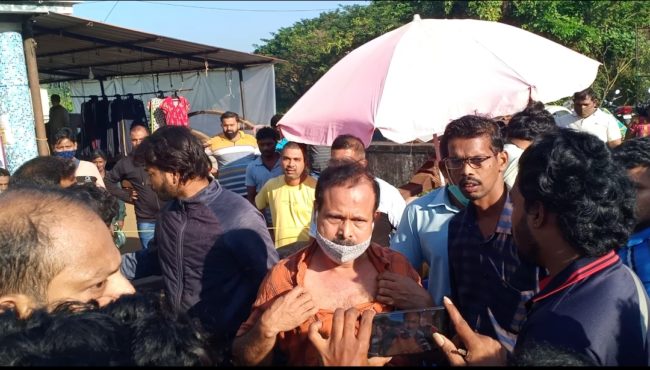 Christanand Pednekar/ Goemkarponn
CURCHOREM: Locals who came to do shopping on Sunday in Curchorem bazaar witnessed the fistfight between the GSUDA market shop owners and the street vendors over obstruction of footpath and illegally doing business on the footpath.
On Sunday morning, onlookers present at the spot have blamed Curchorem Cacora Municipal Council for its failure to clear footpath encroachments and initiating strict action on this issue.
GSUDA market committee members who were annoyed with the altercation between them and the street vendors on Sunday opined that the shop owners from the GSUDA market are unhappy and face difficulty in getting customers on Sundays, which is a market day.
Shop owners complained that migrant street vendors sit on the footpath and block the customers' path, thereby discouraging people from entering the GSUDA market, thereby causing loss of business to the shop owners from the GSUDA market.
The shop owners also blamed Curchorem Cacora Municipality for turning a blind eye towards footpath encroachments from the municipal area.
When contacted Ulhas Naik, a Curchorem GSUDA market shop owner, he informed that on Sunday, when he questioned the street vendors about blocking the footpath, street vendors reportedly caught Naik's collar and this led to further fight. Ulhas said that for several years migrant street vendors are horsing around and the locals governing body is not taking any action on this issue.
Former councillor Amrut Naik also said that the shop owners sitting inside the market face difficulty in doing business when these migrant street vendors sit on the footpath and discourage customers from entering the market. There is a need to sort out this issue by the authorities to avoid such clashes.
When contacted Curchorem-Cacora Municipal Council Chairperson Vishwas Dessai, he informed that he learnt about this issue yesterday and has given directions to the municipal market inspector to identify the place for the street vendors to sit and do business.
Comment