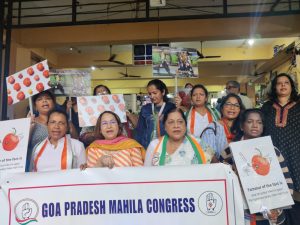 Goemkarponn desk
PANAJI: Mahila Congress alleged that BJP government failed to double the income of farmers, who are paid doit for tomatoes and sold at Rs 140 in the market burning a hole in consumers pocket.
Goa Pradesh Mahila Congress President Beena Naik and others protested against the sharp spurt in vegetable prices and said that the government has failed to control the prices.
"Tomatoes have become so expensive. It is very sad that the government failed to control the prices. Farmers are paid doit, while when it reaches to market the prices are seen skyrocketed. Mod government has failed to double the income of farmers and provide essential goods at affordable prices to the public," she said.
"How a family with a low salary live in these circumstances of increasing prices. People are suffering due to the inflation, but the BJP government is not bothered," Beena Naik said.
She said that the Congress government in Karnataka has provided so many reliefs to womenfolk by giving doles and free journeys in the buses, however, BJP has failed to give a helping hand.
Beena Naik attacked the BJP government over inflation and alleged that the Narendra Modi government is looting the public by increasing prices and taxes.
She said that before coming into power, Narendra Modi was targeting Congress over price rise. "There is no need to tell how prices are doubled or have increased prices thrice a time," she said.
She said that the BJP government has failed to give solace to the public over inflation.
Dr Pramod Salgaonkar said that inflation is disturbing the life of common people. "We were told that after the implementation of GST, prices will come down, but we are cheated by this government. Nowadays people can't afford to purchase milk and other essential goods," she said.
She said that as tomatoes and other vegetables have become out of reach, there is a need to provide training to women to cook without the use of tomatoes, onions and ginger.
"BJP should control the prices, or they will come to know the effect of it. "INDIA will show them their place," she said.
Comment