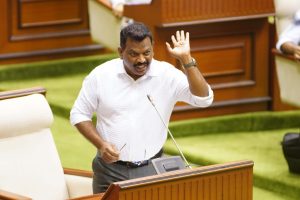 Urges govt to act on stray cattle menace across state
Goemkarponn desk
PORVORIM: BJP MLA Michael Lobo said on Tuesday that traffic police harass tourists by imposing fines, which should be stopped or the wrong message will go from the state.
"Traffic police in white uniforms stop everyone, including those who are wearing helmets. The police then request documents, although there is no need to do so because they are readily available on mobile devices," said Lobo
He further said that those who come here to stay for about four days complain to us about being harassed and stopped at ten different locations while travelling from the north to the south.
According to Lobo, the police should cease intimidating tourists because it sends the wrong message. "You (Home Department) are sending the incorrect message by fining visitors in a way that can't possibly be used to generate cash.
Tourism Minister Rohan Khaunte also claimed that tourists are being routinely harassed in Goa by traffic police officials, and said that efforts will be made to make the state and its environs more hospitable to tourists.
Lobo delved into specific areas of concern, including the need for budget provisions to support tourism stakeholders such as shack operators, private huts, and water sports.
He also stressed the importance of transparency and efficiency in the Single Window Clearance system, calling for simplified procedures to attract investors and promote business growth in the state.
"There's no doubt that our government is striving to create a business-friendly environment, but we must also provide greater clarity on the Single Window Clearance system in the tourism sector," Lobo stressed.
He demanded better management of stray cattle, improved utilisation of budget allocations for the fisheries department, enforcement of LED ban on fishing and greater clarity on the New Education Policy to equip the youth with relevant skills and increase the number of seats in professional colleges.
Comment