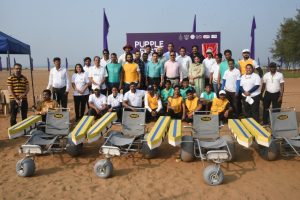 Goemkarponn desk
PANAJI: Purple Fest to be held from January 6-8, 2023 has created a buzz around the country as Diversity is celebrated, through disability.
For the first time in India, Goa will witness the launch of specially designed accessible E-Rickshaw vehicles from Ezy Mov as part of the Sugamya Bharat Abhiyan. Six such vehicles will be used during the Fest to take PwD (Persons with Disability) around in the most convenient way.
The inauguration of Wheelchair Accessible E-Ricks and Unified Beach Cricket was held at Miramar at the hands of Minister for Social Welfare, Subhash Phaldesai.
Minister for Social Welfare, Subhash Phaldesai said, "Purple Fest is going to be path breaking in many ways. The Wheelchair Accessible E- Rickshaw will facilitate easy movement. It will empower those on the wheelchair who otherwise are confined to their homes. It's a brilliant step in the right direction towards inclusivity, creating diversity and bringing about total empowerment."
MLA of Saligao Constituency, Kedar Naik speaking on the occasion added, "I am happy to be a part of this event. It is a great platform for our Persons with Disability. The E-Rick is a great step to provide additional mobility to those in the wheelchair. Healthcare will be easily accessible too."
These vehicles will be used to transport people from their hotels to the venue of the Purple Fest and also pick and drop them at the railway station and hotels.
"There's so much to look forward through the Purple Fest for Persons with Disability. And here in Goa we are are proud to launch the Accessible E-Rick that I believe has tremendous potential to bring senior citizens and mobility impaired masses to have an improved standard of living," stated Commissioner for Persons with Disability, Guruprasad Pawaskar.
An affordable connector service for wheelchair accessibility the Ezy Mov accessible electric E-Rick can be easily integrated into the public transport system that are meant to be Senior Citizen and Wheelchair friendly.
"The future is here. And this Accessible E-Rick is an extremely practical solution that can work in unison with municipalities, local governing bodies and organisations to deliver healthcare and other facilities in Goa," Pawaskar added.
Specially arranged for Persons with Disability, two family members can accompany the passenger with disability in this vehicle, which has a ramp that doubles up as the door in the rear.
Besides, there has been utmost importance given to safety where the wheelchair is strapped on all four sides. "I request all those in need of this facility to take full benefit of the same here in Goa during these days," urged Pawaskar.
Also present for the launch were Rohit Monserrate, Mayor of Panjim and Taha Haaziq, Secretary of State Commission for Persons with Disabilities in Goa.
Comment