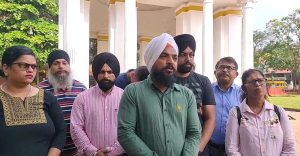 Goemkarponn desk
PANAJI: Goa Sikh Youth (GSY) Association has demanded an answer from the state police authorities for the reason for stopping langar during the Feast of St Francis Xavier.
"We had approached the authorities for permission to set up langar during the old Goa feast for 10,000 people, and we started our set up on Dec 2 and on Dec 3, we even started breakfast. Suddenly we received a call from Police to immediately stop the service," said Goa Sikh Youth (GSY) Association President Sandeep Sartaj.
He further said that no reason was specified for the stoppage, but they told us that they had received a written complaint.
"People were asking us the reason for stoppage for langar, but we did not have a reason to respond, and that is the reason we had to take a press briefing to clarify the issue,": he added.
The community said that there were no issues regarding slow traffic, and they were helping park vehicles at the historic site.
The Goa Sikh Youth (GSY) Association organised a 'Guru ka Langar' on the fourth day of the Novena of St Francis Xavier at Old Goa in a bid to foster and highlight the importance of service to humanity.
The Langar was organised at the Bhakia property with members of the association serving free food to the devotees, pilgrims and others.
Sartaj informed that for the past two years, the association has been thinking of organising a Langar at the Novena and Feast of St Francis Xavier, one of the biggest feasts in the State.
Comment