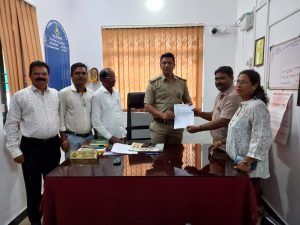 Goemkarponn Desk
PONDA: The Curti Khandepar Panchayat today submitted memorandum to Ponda Police Station Inspector Vijay Kumar Chodankar on Wednesday to check the identity of tenant living in rented rooms in Curti Panchayat area and to control the migrant workers gathering at Antrujnagar and other places causing nuisance to people.
The locals are worried over house theft and chain snatching and also unknowns staying in rented premises.
Sarpanch Naved Tehsildar, Deputy sarpanch Wilma Perera Panch Babu Chiri, Bhika Kerkar Neelkanth Naik submitted the memorandum and discussed issue with PI.
In the recently held Gram Sabha of Curti Panchayat, the villagers raised a question regarding the increasing crime in the Panchayat area.
At this time, taken a resolution in the Gram Sabha to collect all the information of the all tenant living in the panchayat area.
Sarpanch Naved Tehsildar expressed the possibility of increase in crime in the area due to the number of migrant workers coming together from 7 to 9 in the morning and 5 to 7 in the evening.
Accordingly, the villagers demanded that the police take action against the concerned. A letter has been given to the police as per the demand of the villagers.
Police have also urged to take action against the vendors who are illegally sitting on the roadside.
The locals also expressed concern over unknowns conducting theft of the ornaments from the necks of the women passing by on the road in the panchayat area and locals demanded police petrolling beside tenant verification.
Comment