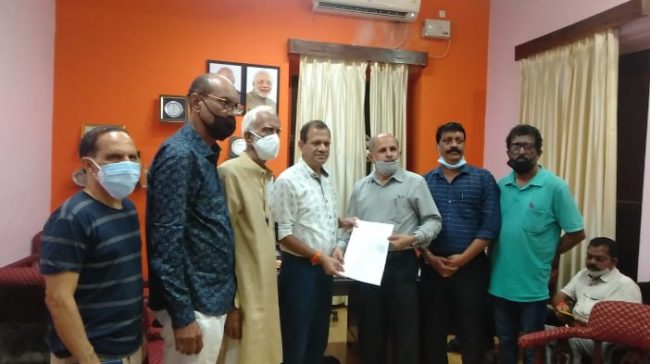 Goemkarponn desk
PONDA: The locals of Ponda City have demanded to scrap the proposed 15-meter road on the Ponda ODP.
Locals, including Architect Kamlakar Saddle, Sunil Desai, Vinayak Nayak, Mario Coelho, Uday Dangi and others, have demanded removing the 15 meters proposed road alongside the main nullah serves no purpose but would destroy wetlands (paddy field).
In this regard, Ponda Citizen Group today submitted a memorandum to SGPDA officials.
The discussions were held in PMC Office in the presence of Chairperson Shantaram Colvekar.
In their memorandum Citizens group reminded that a green non-development belt was provided along the stream as per the decision taken by the Environment Protection Council, the highest environment forum of the state and instructions issued by the Town and Country planning department.
The citizens have demanded to conserve the heritage value of the town in the development process in the city.
"The identity of cities such as Dada Vaidya Chowk, Ponda Bus Stand, and sites should be adequately preserved and marked in ODP. The central square of the town has social and cultural significance. Major public functions are held here, and therefore Dada Vaidya Chowk and Bus Stand area need the be redeveloped to meet these functions in a dignified manner, and so commercial zone in this area may be curtailed to provide a beautiful town square which would be the pride of the town," they said in the memorandum.
The citizens also said there has been an increase in settlement zones only to help the greed of developers and other vested interests.
They also pointed out that as per TCP norms, the area having a slope of more than 25 per cent should not be allowed for development, but more and more steep slope areas are taken up for development.
There is always a parking problem in town, and so parking plots may be provided in ODP located along the central spine at different locations.
Comment